Synopsis
A malignant spirit forces a girl into a perilous journey through a watery underworld.
Reviews
"Atlas World is a haunting and tremendously professional film. A young girl receives a Ouija board at a birthday party, which promptly summons her and her friends into a cold, wet underworld while they sleep. The accompanying music and seamless use of color create a film that works in every way. Every new scene brings its own palette of hues and emotions. In seven short minutes, director Morgana McKenzie breathes life into a world that feels only slightly impossible. The attention to detail and suspense put the film in a league with the new masters of horror."
"[…] At the heart of Atlas World is a compelling and creepy story that immediately centered around a girls' sleepover and their ouija board. Excellent cinematography and a visual orchestration of light and darkness, childhood and the supernatural. Ultimately, this is a great concept and with excellent storytelling execution that allow for the song Atlas World (Solomun Day Remix) by Liu Bei to shine through as well. […]"
Get the Music
Buy or listen to the Atlas World (Solomun Day Remix) song by Liu Bei.
Visit the Richard Walters Music page on Facebook.
Visit the Solomun page on Facebook.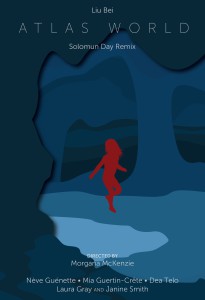 Poster design by Catalin Dumitru.
More information will be posted here in the coming weeks, as well as updates posted to the Morgana Films Facebook page (and on Instagram and Twitter).
Awards
2017
Nominations
2017
Official Selections
2017
Press
Facts about Atlas World
Locations
Atlas World was shot in some amazing locations in the National Capital Region of Canada, with permits from the National Capital Commission and the local film office Invest Ottawa. Locations included:
Lusk Cave – Formed by glaciers thousands of years ago, located in Gatineau Park, Quebec. Accessible only after hiking for an hour along Lac Philippe, and a 45 minute hike up the steep trail to the cave. Transporting cast, crew, and equipment to the location was challenging.
Carbide Willson Ruins – The ruins of a water-powered industrial plant constructed in 1911 in Gatineau Park, Quebec. Getting to and from the location required an hour long hikes with crew and equipment in the rain.
Alfred Bog – A beautiful 10,000 acre domed peat bog in Alfred, Ontario. Originally part of the 12,000 year old Mer Bleue bog system.
Production
The Lusk Cave shoot was done in a single overnight shoot. It was planned to end shortly after midnight, but due to a two hour delay at the beginning of the shoot day and challenges shooting in the cramped cave environment, shooting ended at 4am. The hike out of the location with equipment took another hour.
The Willson Ruins shoot was over a Saturday and Sunday in October. Saturday was cold and rained most of the day, with temperature only a few degrees above freezing. Cast and crew spent most of the day in the water locations around the ruins. For their safety, cast and crew wore cold-water wetsuits. The wetsuits were concealed under the cast costumes.
Morgana designed and constructed the Finger Queen's dress over two months.
Several hundred prosthetic "dead fingers" were made for placement on the dress and head-piece, and for the Lusk Cave shoot, by Morgana and a handful of volunteers that she trained.
The "fresh fingers" were created by OnSceneFX.
Production Stills