Synopsis
Desperate measures are taken to escape a violent world concealed within an isolated cottage.
Reviews
"Director Morgana McKenzie does a wonderful job of slowly revealing the secrets that Stephen has, always making sure to surprise viewers at every turn. Things are never what they appear to be in this short. Every time we figure something out, McKenzie throws another twist in that not only reveals more of the story, but takes the previous revelations into a new direction."
"Ellie is a short film that manages to, in a small amount of time, create such impressively fascinating characters, and atmosphere, that one can't help but want to know and see more. The mysteries abound in the story – from who Ellie is, to what Stephen might be lying about, to what Davis' role is in these children's lives. It is disturbing, but gripping all the same."
Awards
Nominations
2016
Official Selections
2017
2016
Film Stills
Production Photos
Here are just a few production photos from the Ellie shoot (courtesy of Charlene Burnside Photography).
Blog post updates on Ellie
Read all posts related to Ellie
Background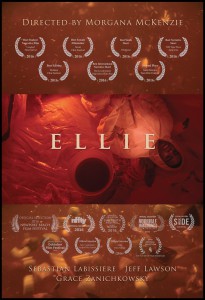 After an incredibly successful Kickstarter campaign, and a great shoot in August 2015, four months of post-production on Ellie ended in mid-February 2016.
"Ellie" was originally a short film that Morgana intended to shoot during her 2014 summer stay at "Prodigy Camp". Due to time constraints, she was unable to shoot the project at Prodigy Camp. Despite not finishing Ellie, Morgana had a fantastic experience at Prodigy Camp, and wrote a blog post about it here: "Prodigy Camp Experience"